Welcome!
This website is only a snapshot of Gamma Delta Psi, an organization, of and for young men, that has endured for over 140 years. The reason for our long life is simple – we provide a unique experience that a young man can find nowhere else.
Our mission is to gather together young men who have different backgrounds, different interests, different skills and different life goals. The similarities of this gathering is a desire for excellence in their own life, a willingness to help each other achieve this excellence, and a willingness and enthusiasm to provide assistance and service to their community and their school.
We believe that leadership, teamwork, communication skills, problem solving skills, organization skill, financial management, and other life-long knowledge assets, can be best learned and developed in a supportive environment based on providing assistance to others in need, whether they be in our school, our community, or our brotherhood.
If you have questions or wish to join in this grand experience, send us a message and we will explain how to be part of something that is bigger and better than we could ever hope to be on our own!
The Board of Trustees
Gamma Delta Psi Fraternity International
Why Join Gamma Delta Psi?
High school and further education are a vital part of a person's development. However there are many skills that need to be developed at this time of life, which are not really included in a typical curriculum. To be successful in a career, in a relationship, in life, involves personal skills, interpersonal skills and group / team skills that are best honed by doing. Following is a short list of the types of abilities you will learn and use in fraternity life.
Personal Skills
Personal planning
Budgets and financial management
Solving problems
Making decisions effectively
People Skills
Communication
Sensitivity to others
Social graces and behavior
Negotiating and cooperating
Group Skills
Organization
Project management
Team building
Leadership
Resolving or managing conflict
When you get involved, you will be coached and mentored by an older member and as you become more experienced, you learn to do the same for younger members. In this way, you will find that most situations are best handled when everyone is supportive, rather than competitive.
Many alumni will tell you the best part is having life-long friends you can count on. They will speak of the "brotherhood" that develops.
Dedication
To the founding Fathers of Gamma Delta Psi and to the many great brothers that have faithfully walked in their footsteps, we pledge ever to uphold these policies of Gamma Delta Psi:
To encourage the dissemination of ideas between young men of varying backgrounds.
To encourage the acquisition of organization abilities, of business acumen, and leadership abilities by its members.
To encourage the development of social graces in its members.
To encourage scholastic achievement.
To encourage civic participation.
To encourage purposeful and constructive pledge periods.
Gamma Delta Psi Risk Management Policies
Preamble
The following policies are intended to protect the safety and reputation of Gamma Delta Psi, its pledges, members and guests. Rather than restrict or lessen the fraternal experience, they ensure that activities, events and functions of the fraternity are constructive, beneficial and enjoyable for all concerned.
Risk Management Rationale
Social life is an important part of the academic experience, and of fraternity life. It is normal and healthy for students to gather to socialize, have fun, and temporarily leave behind their academic work. Gamma Delta Psi's policies that follow are not intended to prevent fun, but to ensure it is done in safe and legal ways. Ensuring that fraternity social events remain safe involves the hard work and commitment of the fraternity membership and leadership. Risk management is every chapter member's responsibility.
Establishment of Individual Chapter Risk Management Policies
The Risk Management Policy is a minimum policy, which the chapters must follow. Chapters will face unique challenges that will require individual attention. They may choose to adopt a policy above and beyond these standards. This policy is intentionally broad, and it is the intent that chapters individualize, through discussion, the policy beyond the scope of the minimum standards. The major focus is to educate all Brothers in Risk Management. Adoption of this policy will provide a program of education within the chapters, and on a International level.
Alcohol and Drugs
The possession, sale, use or consumption of alcoholic beverages, during a fraternity event, in any situation sponsored or endorsed by the chapter, or at any event an observer would associate with the fraternity, must be in compliance with any and all applicable laws of the state, province, county and city.
No alcoholic beverages may be purchased through or with chapter funds, nor may the purchase of same, for members or guests, be undertaken or coordinated by any member in the name of, or on behalf of, the chapter.
Open parties, meaning those with unrestricted access by non-members of the fraternity, without specific invitation, where alcohol is present, are prohibited.
No members, collectively or individually, shall purchase for, serve to, or sell alcoholic beverages to any minor (i.e., those under legal drinking age).
The possession, sale or use of any illegal drugs or controlled substances during a fraternity event or at any event that an observer would associate with the fraternity is strictly prohibited.
No chapter may co-sponsor an event with an alcohol distributor, tavern or bar at which alcohol is given away, sold or otherwise provided to those present. This includes any event held in, at or on the property of a tavern for purposes of fundraising. However, a chapter may rent or use a room or area in a tavern for a closed event held within the provisions of this policy, including the use of a third party vendor and guest list. An event at which alcohol is present may be conducted or co-sponsored with a charitable organization if the event is held within the provisions of this policy.
No chapter may co-sponsor, co-finance or attend or participate in a function at which alcohol is purchased by any of the host chapters, groups or organizations.
All recruitment activities associated with any chapter will be non-alcoholic. No recruitment activities associated with any chapter may be held at or in conjunction with a tavern or alcohol distributor.
No member, alumnus or pledge shall permit, tolerate, encourage or participate in "drinking games." The definition of drinking games includes, but is not limited to, the consumption of alcoholic beverages to fulfill a challenge or to be permitted involvement in the activity. Any activity involving the consumption of alcohol, which involves duress or encouragement related to the consumption of alcohol, is forbidden.
No alcohol shall be present at any pledge/associate member/new member/novice program, activity or ritual of the chapter.
Hazing
Gamma Delta Psi Fraternity International states its position, in support of constructive, educational and community programs and asserts unequivocally its opposition to hazing and pre‑initiation activities which do not contribute to the positive educational and social development, and welfare of potential members, members and their communities.
Hazing activities are defined as:
"Any action taken or situation created intentionally to produce mental or physical discomfort, embarrassment, harassment, or ridicule. Such activities and situations including assault in any form; creation of excessive fatigue; physical and psychological shocks; publicly wearing apparel which is conspicuous and not normally in good taste; engaging in public stunts and buffoonery; morally degrading or humiliating games and activities; and any other activities which may be construed as hazardous."
No chapter, member or alumnus shall conduct nor condone hazing activities. Permission or approval by a person being hazed is not a defense.
Sexual Abuse and Harassment
The fraternity will not tolerate or condone any form of sexist or sexually abusive behavior on the part of its members, whether physical, mental or emotional. This is to include any actions, activities or events, whether on chapter premises or an off-site location, which are demeaning to women or men, including but not limited to verbal harassment, sexual assault by individuals or members acting together. The employment, or use of exotic dancers, or similar, whether professional or amateur, at a Fraternity event is prohibited.
Health and Safety
The planning of all fraternity functions should carefully consider any potential hazards to ensure the safety of all participants.
The coordinator of any fraternity functions must have a list of emergency numbers for fire, police and ambulance and should ensure that all participants are aware of evacuation routes.
The possession and/or use of firearms or explosive or incendiary devices of any kind, at any fraternity function is prohibited.
Education
Each chapter shall annually instruct its members in the Risk Management Policies. All members shall annually receive a copy of the Risk Management Policies and a copy shall be available on the fraternity website.
If you are a High School aged young man and would like to join our great organization or a parent or school faculty member that wants more info about us, please fill in this contact form and we'll get back to you shortly.
From Interest to Membership
The following will explain how things will work when you and your group decide that you'd like to proceed and gain membership in our great Fraternity.
Interest
You (and at least 1 more person) being of High School age decide that you agree with our Dedication, Mission Statement, Core Values and our Policies and want to form a Chapter of Gamma Delta Psi at your High School. We strongly suggest you get the endorsement of your parents and school administration and recommend that they be included in the process.
Fill out the Contact Form above and a member of Gamma Delta Psi's Board of Trustees will be in touch with you shortly. This contact person will access your interest, ensure that you have read and understand what gaining membership in Gamma Delta Psi will require of you and how it will reward you.
The Board of Trustees will vote as to whether to award you a "Crescent Club" (a probationary Chapter) and assign an Alumnus Brother (Big Brother) or group of Alumni (Big Brothers) to oversee your progression. If your High School once had an active Chapter of Gamma Delta Psi (search here) you may be asked to "re-activate" that chapter but will be known as (for example) "Alpha Omega Crescent Club". If your school has never had an active chapter you will be known as (for example) "Elm Street High School Crescent Club".
Crescent Club Pledge Period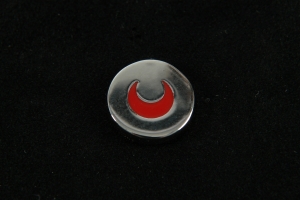 The Board of Trustees will provide you with all the educational material required to gain admission in our Fraternity. This will include our Education Manual, our Constitution, Policies, our History and instructions on how to conduct a business meeting.
Individually you will be expected to memorize the Greek Alphabet, learn the history of Gamma Delta Psi, in particular our 4 founding Brothers, other prominent members,  important historical events and the history of your Chapter or other Chapters in your area.
Collectively you will be expected to complete multiple community service assignments where you raise money for or help out a local charity or organization in need.
Collectively the Crescent Club will be expected to raise funds to pay for your Fraternity Pins. This can be done by setting weekly dues, meeting fines or other means.
Your Crescent Club will be required to meet once a week to conduct a business meeting. You'll be expected to follow "Robert's Rules of Order" during your meetings. The Board of Trustees will help you create a meeting agenda and provide you with the basic version of Robert's Rules so you can run efficient meetings.
Your group will be expected to elect Crescent Club officers as required. This could include President, Vice-President, Recording Secretary, Treasurer, Corresponding Secretary, Historian, Sargent-at-Arms and any other officers required.
Your group will have to create Crescent Club by-laws. These by-laws will govern your group as well as set dues amounts, fines during meetings, etc. The Board of Trustees will provide you with a template to help you come up with your own by-laws.
Your Big Brothers will oversee your group to ensure you are conducting regular business meetings, completing your community service work and are operating in the manner that a Chapter of Gamma Delta Psi should operate.
You will be tested at various intervals during your Pledge Period about the Greek Alphabet and the history of Gamma Delta Psi. At the end of your Pledge Period you will be expected to know the Greek Alphabet and be well versed in the history of our Fraternity.
Crescent Clubs generally operate for 2 – 6 months before being granted admission as a new or re-activated chapter.
NOTE: Gamma Delta Psi forbids any form of hazing in our Pledge Periods as detailed in our Hazing Policy. Our Pledge Periods are educational / community service in nature.
Membership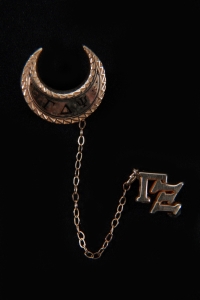 Once your Crescent Club has completed the required number of community service projects, passed the required history tests and displayed that you can properly function as a Chapter of Gamma Delta Psi, the Board of Trustees will vote to admit you as a new or re-activated Chapter.
An induction ceremony will be organized and held where you will be granted membership in Gamma Delta Psi and given your Fraternity Pin. Members of the Board of Trustees will attend along with your Big Brothers and other interested alumni.