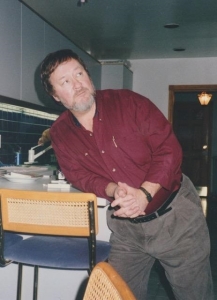 Brothers,
I received the following sad information which is posted below in an email from Bro. Mac Stoodley – Alpha Phi #86.  It relates to the recent passing of his own family brother and our Gamma Delta Psi fraternity brother Dale Stoodley, also of Alpha Phi Chapter in Canada.  Our most sincere condolences are extended to Bro. Mac, his family, and all those who mourn the passing of our Brother Dale.  May he Rest in Eternal Peace .  ONCE A BROTHER – ALWAYS A BROTHER.
In Warm Fraternal Bonds,
Bro. Dorsey Howard
Bro. David Bartlett
Historical Society
For the record, Dale, who was my blood brother as well as a fraternal brother, past away on Sept. 11; 2 days prior his 80th birthday. Dale had been in reasonably good health; however, recently had suffered from a minor stroke. Early in the month he was admitted into the hospital with pneumonia. During his admission and treatment examinations he was also diagnosed with 4th stage pancreatic cancer.
He died in relative peace within 2 weeks, probably for the best
He was a member of Alpha Phi; l'm not certain of his induction number at this time.
Mac Stoodley, Alpha Phi #86.
Dale's online obituary can be found here