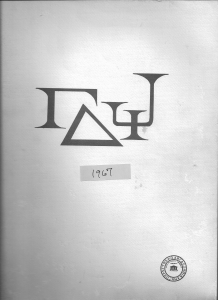 Brothers,
Today we uploaded about 120 documents to the GDP Historical Documents page on the Fraternity's new website gammadeltapsi.org. These include Garnet & Silver's from 1907 to present, The GRIP from it's inaugural edition of November 1960 to present and 4 Pledge Manuals (1963, 1969, 2010 and 2014).
You may notice that there are editions of both The GRIP and the G & S that we don't have in the Historical Society's collection. If you have any of these Fraternity documents (digital or paper copies) that you'd like to share with the rest of the Brothers, please contact Brothers Dorsey Howard and Dave Bartlett.
Our hope is that every document will be available for every Brother to enjoy on the Fraternity website.
In bonds,
The Gamma Delta Psi Website Committee